Guidelines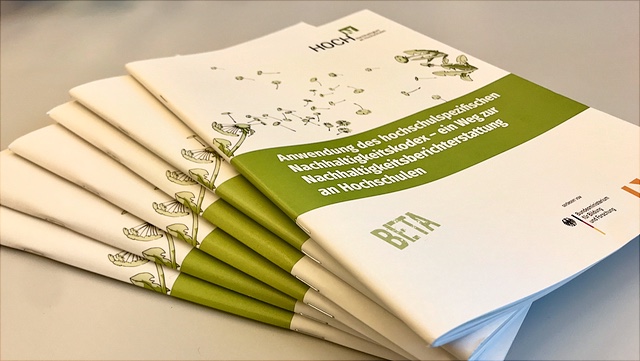 Procedure
In October 2018 the eleven Higher Education Institutions (HEI) published application-oriented individual guidelines to each field of action as interim results. In the second project phase (11/2018-10/2020) these guidelines will be tested at HEI, promoting sustainability actions at our own HEI and collecting case examples. Finally, the individual guidelines will be merged to one overall guideline, incorporating all the cross-sectional areas and interfaces of the  fields of action.
Goal
The aim is to make it easier for as many HEI as possible to gain low-threshold access to the various facets of sustainable development at HEI and to promote further exchange within the overall HOCHN-network.
Field testing
HEI that would like to participate in the trial phase of the guidelines are cordially invited to do so. Please contact the persons named in the respective fields of action under "Contact".
Guidelines Download
At the moment only the Governance and Operations guideline exist in an English version. All the other guideline are yet only available in German. However, we are engaged in providing every individual guideline in English language in the near future.
Application of the Sustainability Code in Relation to Higher Education Institutions – an Approach to Sustainability Reporting at Higher Education Institutions (PDF) (English Version)
Anwendung des hochschulspezifischen Nachhaltigkeitskodex – Ein Weg zur Nachhaltigkeitsberichterstattung an Hochschulen  (PDF) (German Version)
Sustainability Governance at Higher Education Institutions (PDF)  (English Version)
Nachhaltigkeitsgovernance an Hochschulen (PDF) (German Version)
Bildung für Nachhaltige Entwicklung (BNE) in der Hochschullehre
Nachhaltigkeit in der Hochschulforschung
Operational Sustainability in Higher Education (PDF) (English Version)
Nachhaltigkeit im Hochschulbetrieb (PDF) (German Version)